Read Time:
12 Minute, 58 Second
Printing is a widely used technique that allows for the reproduction of text and images on various surfaces. It has been a fundamental method of communication and information distribution for centuries. From the early woodblock prints to the advanced digital printers of today, printing has evolved to meet the ever-changing needs of businesses and individuals. Whether it's producing business cards, promotional materials, packaging, or art prints, understanding the key considerations in printing and production is crucial to achieving high-quality and effective results. In this article, we will explore the different factors to consider when it comes to printing, from selecting the right printing method to choosing the appropriate materials and ensuring the final product meets your requirements.
Types of Printing
There are several types of printing methods widely used in the printing and production industry. Each type offers its unique benefits and applications.
1. Screen printing: This method involves transferring ink onto a surface through a mesh screen. It is commonly used for textiles, signage, and promotional items.
2. Pad-printing: This technique uses a silicone pad to transfer ink onto a three-dimensional object. It is often used for printing on small objects, irregular surfaces, and toys.
3. Flexography: This method utilizes flexible printing plates made of rubber or photopolymer and is commonly employed for packaging materials, labels, and newspapers.
4. Large format printing: As the name suggests, this method is used for large-scale printing such as banners, posters, and billboards.
5. Gravure: In this method, the image is engraved onto a metal plate which is then rolled onto the printing surface. It is commonly used for high-volume printing of magazines, catalogs, and packaging.
6. Offset litho: Offset printing uses plates that transfer ink onto a rubber blanket before it is applied to the printing surface. It is widely used for books, brochures, and stationery.
7. Digital printing: This modern method involves printing directly from a digital file onto various surfaces. It is versatile and widely used for business cards, flyers, and personalized marketing materials.
Each type of printing has its advantages and is suitable for specific applications. Understanding the different printing methods can help businesses choose the most appropriate printing technique for their needs.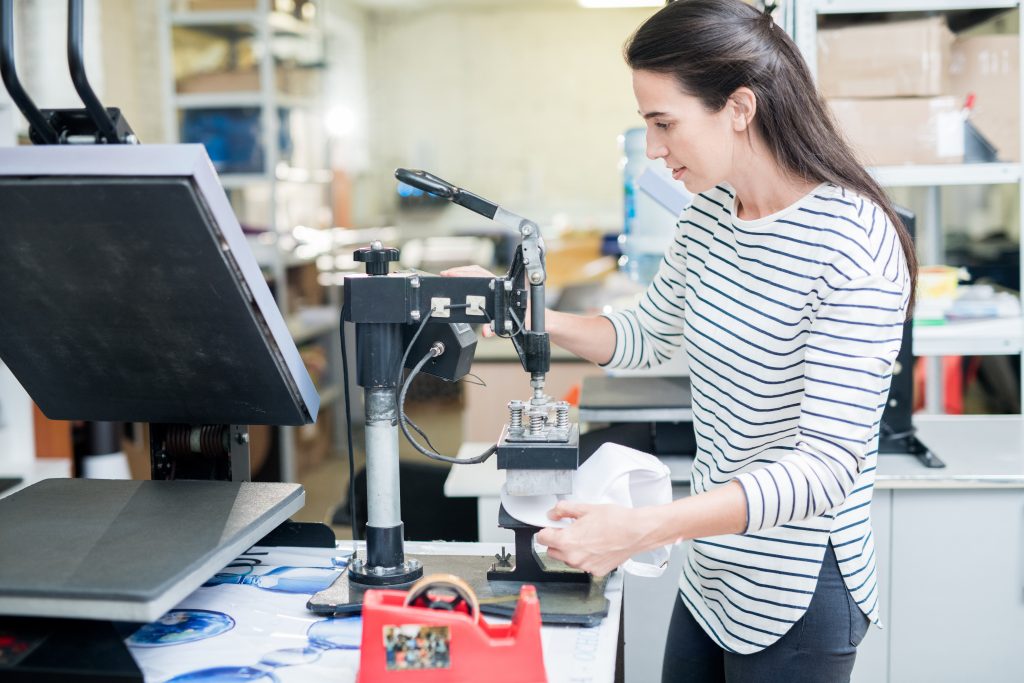 Digital Printing
Digital printing is a modern printing method that has revolutionized the industry. Unlike traditional printing methods, digital printing allows for the direct transfer of a digital file onto various surfaces. This convenient and versatile technology has become increasingly popular for its speed, accuracy, and affordability. With digital printing, businesses can easily produce high-quality prints such as business cards, flyers, brochures, and personalized marketing materials. The process eliminates the need for plates or setup, resulting in faster turnaround times and lower costs. Additionally, digital printing offers the flexibility to print variable data, allowing for personalized and targeted advertising. Whether you need a few copies or a large print run, digital printing provides a cost-effective solution that delivers outstanding results.
How Does Digital Printing Work?
Digital printing is a modern method of reproducing graphic visuals and text on paper, using digital-based images that are directly placed on a wide range of media. Unlike traditional printing methods, digital printing eliminates the need for printing plates and allows for quick and efficient production.
There are different types of digital printing machines available, including production printing presses and inkjet printers. Production printing presses are commonly used for high-volume printing, while inkjet printers are ideal for smaller print jobs. Digital printing is often the go-to method for small-run jobs, as it allows for the printing of materials directly from digital sources.
While digital printing offers convenience and flexibility, it does come at a higher cost per page compared to offset printing methods. However, the benefits of not needing printing plates make it a popular choice for many businesses and individuals.
Benefits of Using Digital Printing for Businesses
Digital printing has become increasingly popular among businesses due to its numerous benefits. One of the key advantages of digital printing is its ability to offer variable data printing. This means that each printed piece can be customized with unique information, such as personalized names or addresses. This feature is especially valuable for direct mail campaigns and personalized marketing materials, as it allows businesses to tailor their messages to specific recipients.
Another benefit of digital printing is its fast turnaround time, making it ideal for rush jobs. Unlike traditional printing methods, which require the creation of printing plates, digital printing allows files to be sent directly to the printer. This eliminates the time-consuming setup process and enables businesses to quickly produce the required materials.
Digital printing is also cost-effective, particularly for small print runs. Traditional offset printing often requires a large upfront investment in tooling and printing plates, regardless of the quantity being printed. In contrast, digital printing eliminates the need for these costly setup procedures, allowing businesses to save money, especially for smaller print jobs.
While digital printing may not provide the same level of refinement as traditional ink-based printers for luxury or high-quality materials, it still offers a valuable option for many businesses. With its versatility, speed, and cost-effectiveness, digital printing allows businesses to produce high-quality printed materials efficiently and on demand. Whether it's for marketing materials, promotional items, or documentation, digital printing provides businesses with the flexibility and convenience they need to meet their printing needs.
Business Cards
Business cards are an essential tool for any business or professional individual. They serve as a tangible representation of your brand and contact information, making them crucial in establishing connections and leaving a lasting impression on potential clients or partners. When it comes to printing and production, there are several important factors to consider to ensure the quality and effectiveness of your business cards. First and foremost, you need to choose the right printing method. Digital printing is a popular choice due to its versatility and ability to deliver fast turnaround times. Furthermore, you should carefully select the type of paper and finish for your business cards. The coated paper gives a glossy, professional look, while the uncoated paper provides a more rustic and tactile feel. Additionally, consider the design and layout of your business cards, ensuring they are visually appealing and easy to read. Lastly, don't forget to proofread your cards before printing to avoid any spelling or grammatical errors. By considering these factors, you can create high-quality business cards that effectively represent your brand and leave a positive impression on those who receive them.
Design Considerations for Business Cards
When it comes to creating effective business cards, several design considerations should be taken into account. These considerations can greatly impact the overall design and effectiveness of the business card.
One important design consideration is the choice of materials. Business cards can be printed on a wide range of materials, such as uncoated paper, coated paper, or even metal plates. The choice of material should be based on the desired image and the target audience. For example, a high-end luxury brand may opt for a metal plate business card to convey a sense of prestige and quality.
Another important consideration is the color format. Business cards can be printed using different color formats, such as full color or spot color. Full-color printing allows for a wide range of colors and gradients, while spot-color printing ensures precise color matching. The choice of color format should be based on the desired level of visual appeal and brand consistency.
Bleeding is another crucial consideration in business card design. Bleeding refers to extending the design beyond the edge of the card to ensure clean lines and a professional finish. Without proper bleeding, the design may appear misaligned or incomplete.
Lastly, the layout of the business card is essential for effective communication. A well-designed layout should include all necessary contact information, such as name, title, phone number, email, and website. The layout should also prioritize key information by using hierarchy and spacing techniques to guide the viewer's attention.
How to Choose the Right Materials for Your Design?
When it comes to choosing materials for your design, there are several factors to consider that can greatly impact the effectiveness and quality of the final product.
Firstly, the type of printing you plan to use is an important consideration. Different types of printing, such as digital printing or screen printing, require specific materials to achieve the best results. For instance, digital printers work well with a wide range of materials, while screen printing may require specific materials that can withstand the ink-spreading process.
Paper finishes are another factor to keep in mind. Different finishes, such as matte or glossy, can create different visual effects and enhance the overall look of your design. The choice of finish should be based on the desired aesthetic and feel of your printed piece.
Additionally, the intended usage of the document should influence your material selection. For instance, if you are designing something that will be handled frequently, such as a menu or business card, you may want to consider using laminated or coated materials for added protection and durability. Similarly, if your design will be used outdoors, it's important to choose weatherproof materials and inks that can withstand exposure to sunlight and moisture.
When it comes to packaging printing, selecting the right option is crucial. Consider the fragility of the product and choose packaging materials and techniques that provide adequate protection during transportation and storage. Additionally, your budget for packaging should also be taken into account.
By considering these factors, you can ensure that the materials you choose for your design are suitable for the printing process, enhance the overall look and feel, and meet the requirements of the intended usage.
Commercial Printer
When it comes to commercial printing, there are several important factors to consider. A commercial printer is a professional printing company that offers a wide range of printing services, catering to the needs of businesses, organizations, and individuals. Whether you require marketing materials, promotional items, or packaging for your products, choosing the right commercial printer is essential. Not only will they ensure high-quality printing, but they will also provide expertise and guidance throughout the entire printing process. From selecting the right printing technique to choosing the best materials, a commercial printer can help you achieve the desired results for your print jobs. Additionally, they have access to advanced printing equipment and technologies, allowing for efficient and cost-effective printing production. So, when searching for a commercial printer, make sure to consider their experience, capabilities, and reputation in the printing industry.
What Is a Commercial Printer?
A commercial printer plays a vital role in the printing industry. It is a professional printing company that specializes in producing a wide range of printed materials for businesses and individuals. From business cards and brochures to flyers and promotional pieces, commercial printers have the expertise and resources to deliver high-quality printed products.
One of the main advantages of using a commercial printer is its capacity to handle large-scale print jobs. With their state-of-the-art machinery and skilled workforce, they can efficiently produce a large volume of printed materials within a specified timeframe.
Additionally, commercial printers offer a wide range of options when it comes to printing materials. They can work with various types of paper, including uncoated and coated paper, to achieve the desired finish. Moreover, they can print images on different surfaces, such as metal plates and cardboard products, to cater to different printing needs.
However, it's worth noting that using commercial printers can come with some drawbacks. One significant disadvantage is the potentially higher cost compared to other printing options. Commercial printing involves investment in specialized equipment and skilled labor, which may increase the overall expenses.
What Should You Look For in a Commercial Printer?
When seeking a commercial printer for your business, there are several key factors to consider. Firstly, quality should be a top priority. Look for a printer with a strong reputation for producing high-quality prints. This includes their ability to reproduce images and text accurately, ensuring clean lines and vibrant colors. Request samples of their previous work to gauge their printing standards.
Secondly, quantity is another crucial consideration. Determine the volume of print jobs you expect to have and ensure the commercial printer can handle the workload within your required timeframe. A printer with efficient machinery and a skilled workforce will be able to handle large-scale projects effectively.
There are various types of printing options available, each suited for different projects. Digital printing, for instance, offers quick turnaround times and is ideal for smaller print quantities. Screen printing, on the other hand, is perfect for high-volume printing and works well on fabrics and other irregular surfaces.
While the digital age has brought about a shift towards digital content, printed materials still hold numerous benefits. Tangible printed content can leave a lasting impression on customers, provide a personal touch, and serve as a constant reminder of your brand. Printed materials can also convey trustworthiness and professionalism.
Screen Printing
Screen printing is a versatile and widely used printing method that offers several advantages for businesses. This traditional printing technique involves transferring ink onto a substrate, such as fabric or paper, using a mesh screen. Screen printing provides vibrant and durable prints that can withstand repeated use and washing, making it a popular choice for creating custom apparel, promotional products, signage, and more. The process allows for precise color reproduction, creating vivid and eye-catching designs. Additionally, screen printing offers excellent opacity, making it suitable for printing on dark or colored materials. With its versatility and ability to produce high-quality, long-lasting prints, screen printing is an ideal choice for businesses looking to create impactful and visually appealing branded merchandise.
What Is Screen Printing?
Screen printing is a popular printing technique known for its versatility and ability to produce vibrant and long-lasting prints. It is a process where ink is transferred onto a surface through a mesh screen, using a stencil to create the desired design.
The screen in screen printing refers to a fine mesh stretched tightly over a frame. Areas of the screen that are not part of the design are blocked out, allowing only the desired image to be printed. Ink is then applied to the screen and transferred onto the surface by pressing a squeegee over the screen. This creates a clean and even image.
One of the key advantages of screen printing is its ability to print on a wide range of surfaces. It can be used on paper, fabric, glass, plastic, metal, and various other materials. This makes it an ideal choice for printing on promotional items like t-shirts, tote bags, and hats. It is also frequently used for pre-made packaging such as boxes and labels.
Screen printing offers excellent color vibrancy and durability, making it a perfect option for designs that require clean lines and high-quality images. It is also cost-effective for large volume orders, as the setup cost is typically higher but the actual printing process becomes more efficient with larger quantities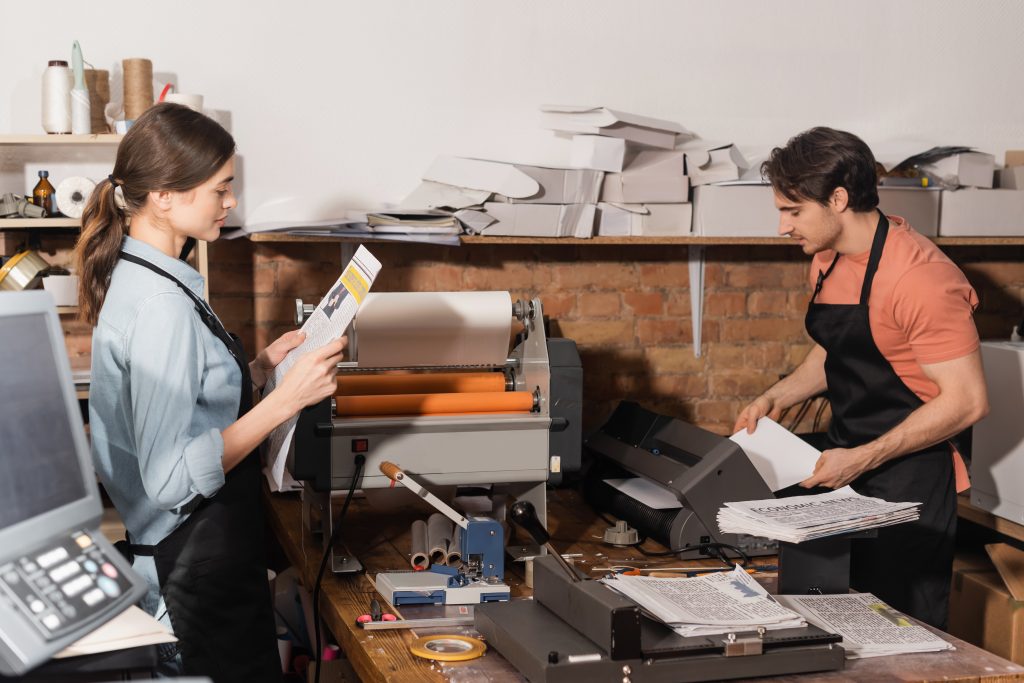 Conclusion
In conclusion, by understanding the strengths and limitations of each printing method, businesses can make informed decisions on the best options for their packaging needs. Whether it's a small batch of custom-designed packaging or a large-scale production run, choosing the right printing technique ensures high-quality and visually appealing packaging solutions.